Physical therapy (also known as physiotherapy) is a primary health care profession that can be found in hospital settings and private clinics, dealing with a variety of musculoskeletal, neurological and cardio-respiratory conditions. Physiotherapists are highly-educated experts in physical function, movement and mobility. In order to improve your mobility, function and well being, physiotherapists use a combination of electro-therapeutic modalities such as ultrasound or TENS for example, along with therapeutic exercises, and hands-on techniques referred to as manual therapy (deep soft tissue techniques, hands-on joint and muscle range of motion and stretching) or manipulation (a quick small thrust to a "stuck joint" to restore mobility).
During an initial assessment a detailed history is taken and recorded to get the background and identify possible contributors to the injury. A physical examination follows which can involve visually and manually inspecting the injury, analysing movement and recording a series of measurements which can be used to measure improvement over time. Based on what the assessment identifies, a treatment plan is devised taking into account what the needs and goals of the client are. 
The aim is to create a meaningful reduction in symptoms as quickly as possible. For all conditions an estimate of time frame and required treatment to recovery will be discussed. Subsequent visits will involve a brief reassessment to establish if recovery is continuing and progression of treatment / exercise to safely maximise function. Onwards referral to medical or other practitioners may be recommended if better outcomes can be achieved by other means or if further investigation is required.
Your therapist will collaborate with your referring doctor or specialist, but you do not necessarily need a doctor's referral unless requested by your insurance company. Contact our clinic to find out more about how you can see a physical therapist today.
Heat and cold therapy are often recommended to help relieve an aching pain that results from muscle or joint damage. 
Basic heat therapy, or thermotherapy can involve the use of a hot water bottle, pads that can be heated in a microwave, or a warm bath. For cold therapy, or cryotherapy, a water bottle filled with cold water, a pad cooled in the freezer, or cool water can be used. In some cases, alternating heat and cold may help, as it will greatly increase blood flow to the injury site.
Transcutaneous electrical nerve stimulation (TENS) is a therapy that uses low-voltage electrical current for pain relief. 
Transcutaneous Electrical Nerve Stimulation (TENS) is the use of electric current produced by a device to excite the nerves for therapeutic constancies. We will connect the TENS unit to the skin using two or more electrodes. We usually use TENS for nerve related to acute and chronic pain conditions. TENS machines serve by sending stimulating pulses across the surface of the skin and along the nerve strands. The exciting pulses help prevent pain signals from reaching the brain.
TENS devices also further stimulate your body to engender higher levels of its own natural painkillers, known as Endorphins. It is a technique of intermodulation that affects the sensory pathway by changing the impulse, which leads to relief of pain.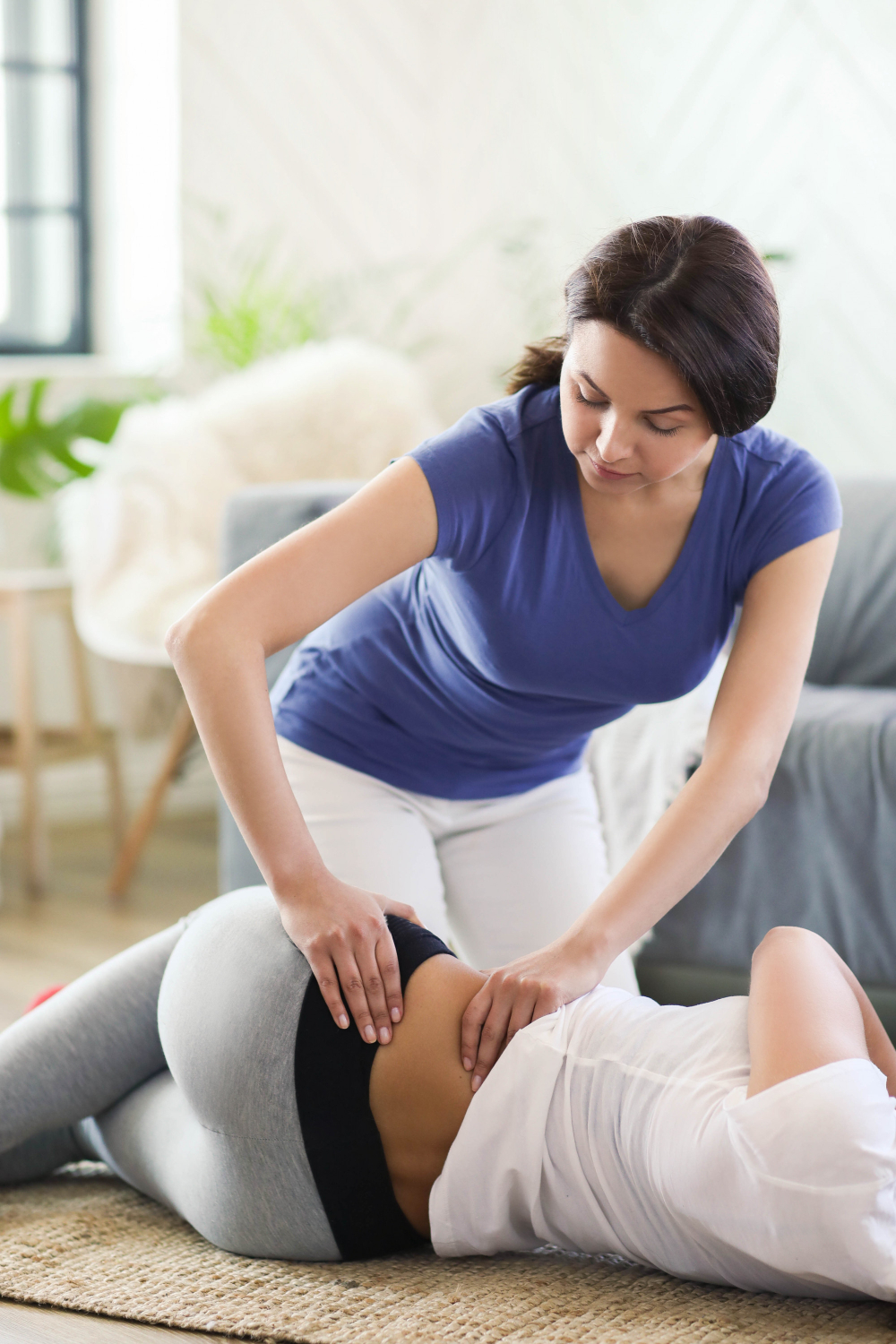 Stretching is a form of physical exercise in which a specific muscle or tendon (or muscle group) is deliberately flexed or stretched in order to improve the muscle's felt elasticity and achieve comfortable muscle tone. The result is a feeling of increased muscle control, flexibility, and range of motion. Stretching is also used therapeutically to alleviate cramps. 
In its most basic form, stretching is a natural and instinctive activity; it is performed by humans and many other animals. It can be accompanied by yawning. Stretching often occurs instinctively after waking from sleep, after long periods of inactivity, or after exiting confined spaces and areas.
Increasing flexibility through stretching is one of the basic tenets of physical fitness. It is common for athletes to stretch before (for warming up) and after exercise in an attempt to reduce risk of injury and increase performance.
Stretching can be dangerous when performed incorrectly. There are many techniques for stretching in general, but depending on which muscle group is being stretched, some techniques may be ineffective or detrimental, even to the point of causing hypermobility, instability, or permanent damage to the tendons, ligaments, and muscle fiber. The physiological nature of stretching and theories about the effect of various techniques are therefore subject to heavy inquiry.
Although static stretching is part of some warm-up routines, a study in 2013 indicated that it weakens muscles. For this reason, an active dynamic warm-up is recommended before exercise in place of static stretching.